February 2008 Meeting
Friday, February 29th, 2008 at 4:48 pm
Rick & Mary Dotson hosted the February 2008 meeting at their home in Vienna, VA. This month, president Kris Weinhold gave a presentation about Algae in the Planted Aquarium. This talk covered 10 of the most commonly seen types of algae in the planted aquarium, along with their descriptions, causes, and cures. With 39 people showing up for this meeting, plenty of folks wanted to solve an algae problem with their tank. Rick also described his automatic water changing system.
Rick and Mary had two tanks on display, a 75G and an ADA cube, both which were planted very nicely. The 75G is a nice jungle-style, open-top tank with Bacopa monnieri and Ludwigia repens growing emersed out of the top of the tank. This tank is also outfitted with a pH/temperature monitor, and automatic water changing system. Mary's ADA tank was recently planted in the Amano style, with white sand creating a path from front to back, and was well on its way to becoming a fantastic scape.
GWAPA is querying member interest in a group manzanita order for arrival by the March meeting. Additionally, Rick Dotson asked members if they would be interested in participating in the Potomac Clean-Up effort taking place throughout the area in April. If you are interested in either of these, please speak up on the forum.
We also had our largest "mini" auction ever with 130 items present. A number of new members showed up at the meeting; welcome to all of those folks!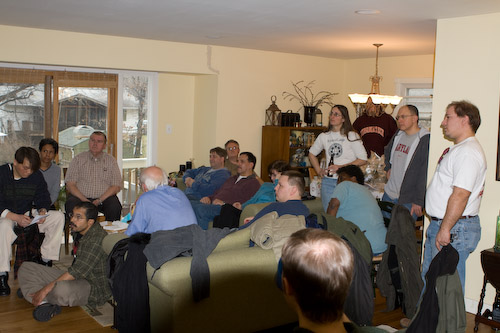 A huge turnout!

Kris Weinhold, presenting about Algae in the Planted Aquarium.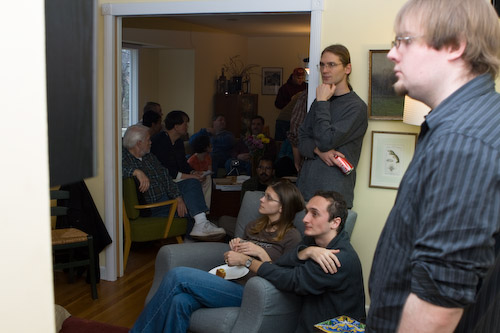 Everyone paying attention to the presentation.

Several members looking at the items up for auction.

Look at all of those bags!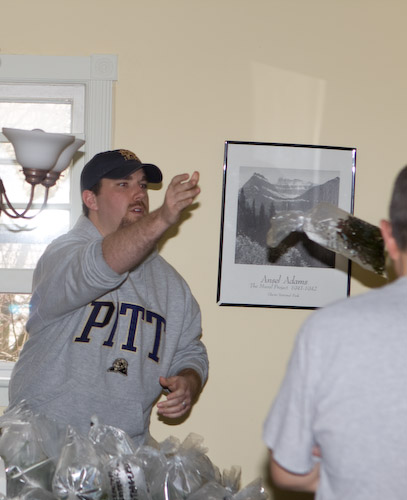 Jeff tosses a bag of plants to a lucky buyer.

Aaron directs the auction.

Aaron points out a bidder, while Kris keeps track of the tally.