March 2008 Meeting
Sunday, March 30th, 2008 at 4:47 pm
Don Snyder hosted GWAPA's March 2008 meeting at his home in Catonsville, MD. Ghazanfar Ghori presented the first of a two-part Aquascaping 101 series, with the second installment coming in April. With another record turnout, the house was packed, and the auction was full of a fantastic array of plants.
Ghazanfar discussed how to consider layout compositions of aquascapes when adding substrate and hardscape (rocks, wood, etc) to your aquarium. He talked through the three main categories of designs:
Concave – left and right side are mounded, with the middle containing negative space.

Mound – one large mound in the center of the aquarium.

Slope – one side is higher than the other.
Ghazanfar talked about using differently sized pieces of hardscape to create the illusion of depth. Additionally, he discussed the science behind positioning these elements to provide a non-contrived look, while creating lines of sight to draw the viewer's eye toward the focal point of the aquascape. If you missed this presentation, don't miss the April one, when Ghazanfar will follow up his hardscaping presentation with one more focused on the plants.
We also had our largest "mini" auction ever with over 150 items for sale. A number of new members showed up at the meeting; welcome to all of those folks!

Don's 125G Aquarium

Ghazanfar Ghori – Aquascaping 101 presenter

Ghazanfar demonstrates using a protractor to distribute the substrate.

Concave layout.

Concave with rocks.

Mounded layout.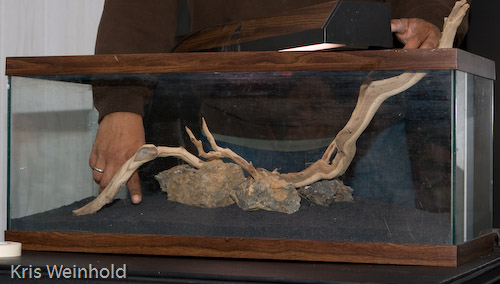 Mounded layout with hardscape.

Completed sloped layout.