December 2005 Meeting
Saturday, December 10th, 2005 at 2:14 pm
We broke attendance records at our December 2005 meeting. Ghazanfar graciously opened his home to some 30+ people, wowing all of them with his hospitality (and his tanks!) Aaron asked for any last-minute nominations for the board, and in the end, our new board consists of Aaron Talbot, president, Nathan Freedenberg, vice-president, Sean Murphy, treasurer, Cristy Keister, corresponding secretary, and Aaron Parker, recording secretary.
We also heard from new LFS store owner, Andrew Blumhagen, about the upcoming opening of his store, Scales, in Silver Spring, MD. GWAPA hopes to aquascape two 46G tanks in his shop.
Following the business of the day, Ghazanfar gave a brief talk, describing how his tank was plumbed into the house plumbing, as well as, the problems/solutions he encountered when setting up metal halide lights over his tank.
Finally, with so many people there, the auction this month was huge!
Thanks to Jay L for the pictures below!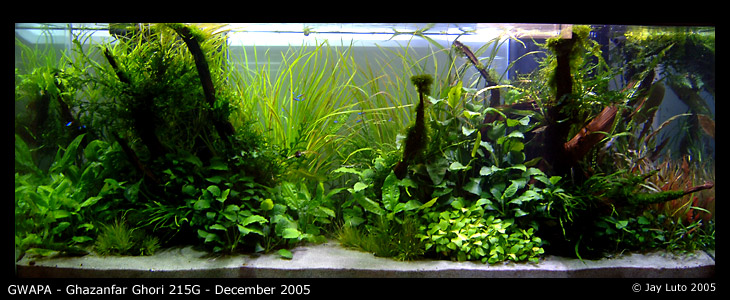 Full view of Ghazanfar's tank.

Yes, Ghazanfar has a reef tank too.

Notice the golden variety of anubias on the right.

Ghazanfar provided some hot (spicy) chili and appetizers. Good stuff!

Hanging out.

Hanging out.

Who needs a TV with that tank?

Listening to Aaron talk about elections.

Ghazanfar and Sean

Ghazanfar honoring a few plant requests.

Hey, that's not a planted tank!

Don't look at the light!

Is that HC creeping out the back of the tank?

Ali and Ivo

Lots of shoes = lots of people.

Aaron P, Sean, Nathan, Erin, Aaron T.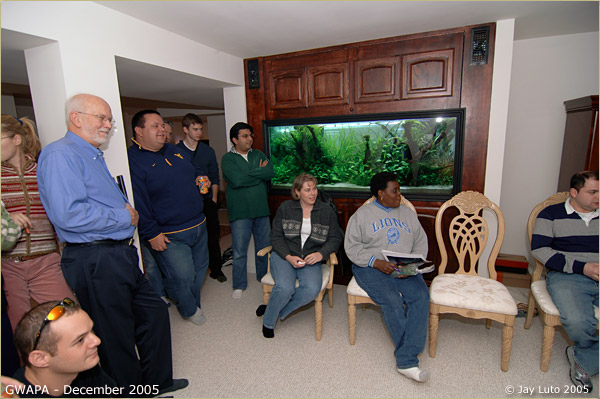 Robert, Rodney, Kris, Ali, Susan, Francine, Aaron P.

Anubias barteri var. nana