Beginner's Workshop 2003
One of the goals of GWAPA is to attract more people into the planted
aquaria aspect of the hobby and help them grow plants successfully. To
support that cause, on October 5th 2003, GWAPA had its first major
event – The Beginners Workshop.
We weren't really expecting a large turnout but one of our members,
Sherry Mitchell, wrote a fantastic article in the Washington Post about planted aquaria and plugged GWAPA's event.
The result – BIG TURNOUT! (Thanks Sherry!!)
It's a good thing we got the larger room or we'd have been in trouble.
About 100 people showed up for the event, some from as far away as New Jersey,Delaware and southern Virginia!
The workshop program was as follows:
An hour for a social and refreshments.
Presentations by Robert Rickets, Rick Doston, and myself, Ghazanfar Ghori.
An auction
A raffle
Robert Ricket's presentation was about substrates, which he
covered comprehensively. He also talked about the different filtration equipment and lighting options that are available. A very informative
talk from which everyone, even the more experienced hobbyists,
walked away learning something.
In Rick Dotson's talk about plants, he explained the differences between
rosette plants, stem plants and epiphytes – showing several examples
of each type and passed them among the audience. Rick also talked about
fertilization, covering everything from substrate fertilization to CO2.
Next came my turn, my talk about aquascaping. I explained basic
aquascaping principles and using local rocks & donated plants,
setup a 20G Long tank to demonstrate some of the things I had
talked about.
After a short break, we went on to the auction! We had over 200 items!
Some of those came from vendors who generously donated their products
to be used as auction items and raffle prizes. Andrew Blumhagen (President of PVAS) volunteered to be the auctioneer.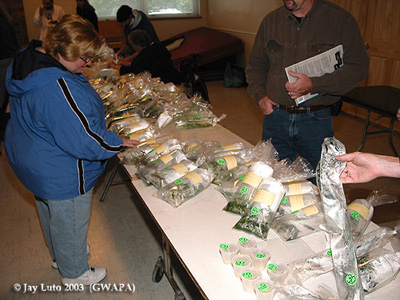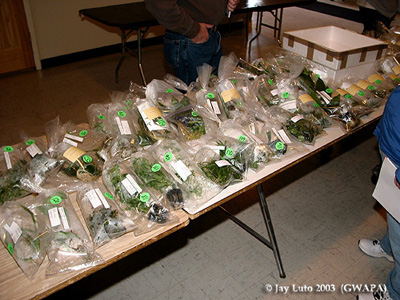 We had raffle draws in between the auction, and David Snell walked away with the #1 prize – a fully setup established planted tank!
Here's a picture of the prize!
Prize #2 was the 'demonstration' tank – again fully planted. The third prize was a collection of products from Seachem and a certificate for a 1 year AGA membership.
In all, the workshop was a huge success! GWAPA got 9 new members
and encouraged many more to get more involved in this wonderful hobby.
I'd like to thank everyone who helped out and all the vendors who supported us.
I'd especially like to thank,
Aquarium Garden
www.aquariumgarden.com
An online source for great quality aquarium plants!
Charley Sabatino
beadgc@nyc.rr.com
Charley imports rare aquatic plants – if you crave the uncommon, he's your man.
Hello Lights
www.hellolights.com
Your aquarium lighting superstore!
Seachem
www.seachem.com
Seachem is a manufacturer of innovative aquarium products. They
go over and beyond their call to help support the hobby.
The Aquatic Gardeners Association
www.aquatic-gardeners.org
An international nonprofit organization of aquatic plant enthusiasts.
If you're into aquatic plants, you need to join this organization.
Wet Pets Inc.
www.wetpetsinc.com
Wet Pets is the largest and most professional aquarium service in
the Washington D.C. area.
Here's a link to the document we handed out –
The Bullet Proof Planted Tank