Nov/Dec 2006 Meeting
Friday, December 15th, 2006 at 5:03 pm
Our November/December meeting had a great turnout with over twenty some folks showing up to Francine's lovely home in Beltsville, MD. Francine showed us around her fishroom, which is something most of the members dream about setting up. She has a number of different species setup, including dwarf pikes, apistogramma, various catfish, and some altum angelfish. Of course, she had a few planted tanks in the room as well.
Once the meeting got started, Aaron conducted our elections. The results are in, and next years' board will consist of the following members:
President – Ghazanfar Ghori
Vice President – Jeff Ucciardo
Treasurer – Sean Murphy
Corresponding Secretary – Aaron Talbot
Recording Secretary – Kris Weinhold
The new board will meet sometime in December or January to discuss the upcoming year's agenda. If you would like to host a member in 2007, please contact a member of the board.
After elections, Francine gave a brief talk about how she setup her fishroom. That included removing a window to fit a 250 gallon water collection barrel in the basement. She also talked about her various successes breeding apistogramma, using rain water and live foods.
Finally, with so many people there, the auction this month was huge! Our "mini" auction probably took over an hour to finish. I think everyone went home with something!

Jeff, checking out the fish room before most other folks arrive.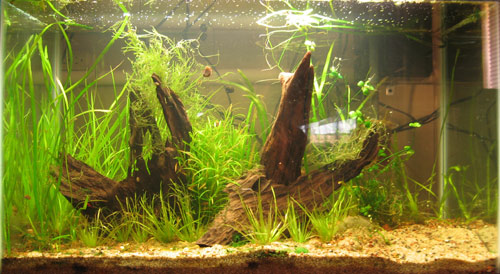 One of Francine's planted tank. So that's where all the blyxa japonica's been going!


Nice grass-look aquascape.

Everyone gathers around as Sean and Aaron make announcements

Francine talks about breeding apistogramma, setting up her fishroom, and collecting rainwater.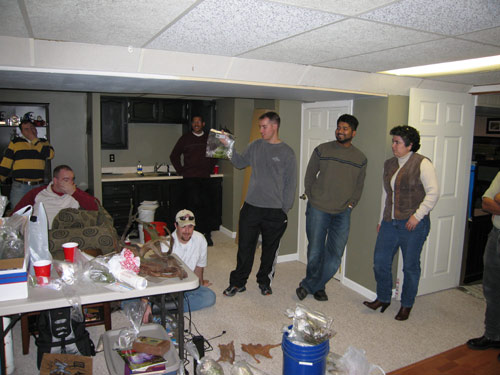 Aaron doubles as both the out-going president and auctioneer.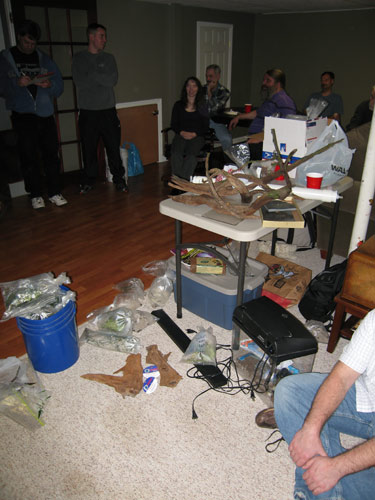 Look at that pile of stuff to auction!