May 2015 meeting
Friday, June 5th, 2015 at 11:44 pm
The May meeting for GWAPA was held at the home of Doug Gross, in Takoma Park, MD. The guest speaker was Becca Goldring. There was a good turnout, around 20 people, pretty good considering it was memorial day weekend. Decent size auction as well. It was so nice out that much of the meeting people were eating and talking in Doug's beautiful back yard. We even had the auction on his back patio.

The meeting started with our president Sean Murphy talking briefly about the huge success of the 2015 AGA convention hosted by GWAPA. There was a record number of people in attendance and a record number of venders and sponsors. Both clubs, AGA and GWAPA made a nice little profit that will go back into making these clubs even better for the members. Sean also thanked all that helped plan, organize and volunteer for this wonderful event. It was because of their hard work that it was such a success. For any one that did not get to attend, or those that may have missed a talk, or anyone who just wants to relive the awesomeness of the AGA convention, DVD's of the event are available for pre-order. Get then HERE

Becca Goldring gave two wonderful yet short and sweet talks. The first talk was on constructing a rain barrel catchment system. In Becca's words, the main benefits to constructing a rain barrel is that, "collecting rain is less expensive and wasteful than RO, but allows you to work with all sorts of critters that need soft water". If you decide to build a catchment system, Becca recommends checking first to see if your local town or city government offer any rebates or incentives. There are many programs in place to encourage people to help reduce runoff on their property. You might find that your city or town will help with the cost of building your rain barrel so don't forget to check online before buying your materials. The construction is pretty straight forward and there are many resources online to help you out. Below is a picture of Becca's rain barrel.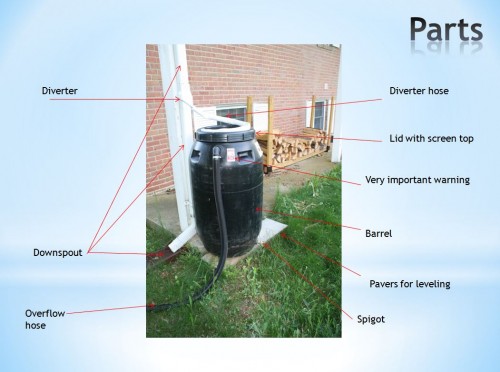 The second talk was on a species of dwarf cichlid that is a beautiful addition to any planted tank. Dicrossus maculatus AKA the spade-tailed checkerboard cichlid. Her talk included fish size, temperament, diet, tank space needed and parameters, as well as sexing the species, courtship, spawning and rearing fry.
After the talk we had our monthly auction.
As always we would like to encourage people to attend the meetings, they are always fun and there is always something to learn.
Below are some pictures of our host's tanks. Please enjoy.