Nov/Dec 2008 Meeting
Monday, November 17th, 2008 at 2:30 am
GWAPA's combined November/December meeting was held in Reston, VA at the home of Michael Barber. We spent our last meeting of 2008, enjoying each others company during a holiday potluck. 
Close to 40 people piled into Michael's house to enjoy the meeting. We did have a little bit of club business to conduct prior to starting the auction. President Kris Weinhold presented the two aquascaping contest champions, Eugen and Judi, with their 2L bottles of Excel as a prize. In addition, the membership elected the 2009 board of directors, who are:
President: Kris Weinhold
Vice President: Jeff Uccarido
Corresponding Secretary: Dave Williams
Recording Secretary: Jen Williams
Treasurer: Sean Murphy
Our auction was the largest auction we've ever at a meeting, with 144 items being sold. Needless to say, everyone came away with a couple items. Have a great holiday, and look for January meeting information some time soon.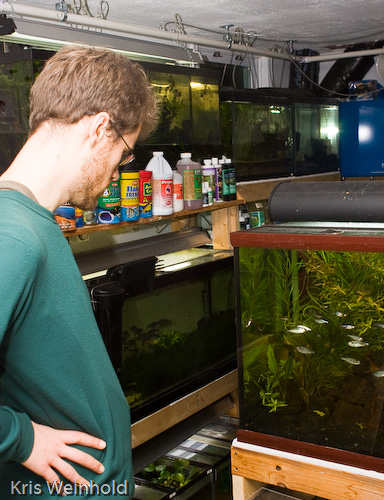 Cavan checking out one of Michael's aquariums.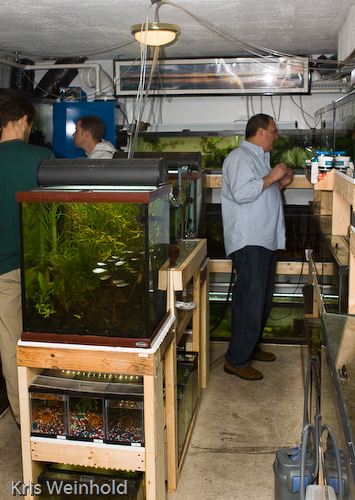 Cavan, Aaron, and Paul are wandering around the fishroom.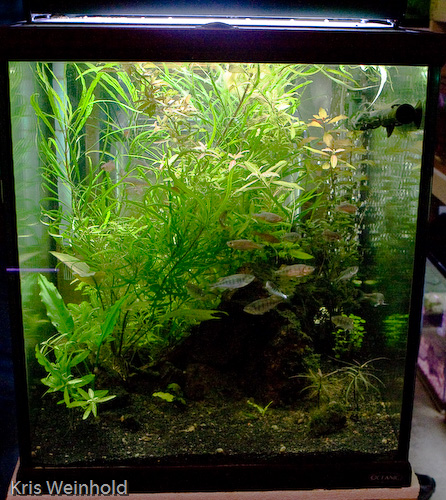 One of Michael's planted aquariums.